AI &PEG ADVOCATES is a full-service law firm, providing cutting edge legal services and solutions to local, national and international clients. The set of legal services include Enterprise Level Services especially tailored for large organizations having operation span in multiple cities, SME Services-for small and medium entrepreneurs, and personalized solutions-for individual and start up businesses.
AI &PEG ADVOCATES focuses on the specific needs of corporate and individual clients and work dedicatedly to provide them with best legal solutions. The legal services of AI &PEG ADVOCATES are also blended with best management practices for making working with AI &PEG ADVOCATES the best service experience.
These principles have led the firm to grow from 4 lawyers at its founding, to its current strength of a team of over 15 people comprising lawyers, paralegals, and other professionals, over a period of 9 years since its founding.

Intergrity
We deliver practical and objective advice and do not cause our clients to incur unnecessary legal costs.

Quality
We recruit the best legal minds and invest heavily in their training and development.

Affordable
We do our best to allow everyone to have access to legal advice, by charging fees that we believe are reasonable and fair.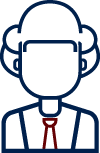 Hard work
We know that talent is only part of the battle. We work hard to get the best result for our clients and always aim to over-deliver on your expectations.
We offers various range of legal services crossing multiple disciplines. This ranges from all civil, criminal and corporate issues.
The Firm dealings with our clients are based on personal relationships that encompass high degree of trust and respect. Our motto is "for our client, we go the distance" and the firm is shaped to ensure we provide the legal services that satisfy the needs of our clients.
Currently our firm has more than 12 (twelve) retainer agreements with various corporation in different fields such as, mining sector, transportation sector, hospitals, construction, manufacturing, pharmaceutical, trading , security services firms and financial institutions.